Helping you at each step of the Drug Development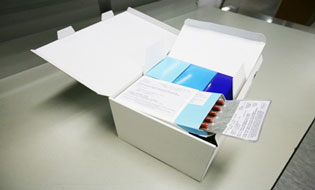 In order to make it easier for you, Bertin Pharma is able to help you on different steps of your drug development: manufacturing, primary, second, final packaging, storing and shipping.
Focus
Our Clinical Supplies in figures
Preparation of Therapeutic units: Dosage Forms Manufacturing & Primary Packaging
Secondary & Final Packaging
Distribution
Placebo Formulation
Blinding into Capsules
Quality Standards
Our Clinical Supplies in figures
3000 worldwide shipments
300 clinical packaging
400 clinical batches
Preparation of Therapeutic units: Dosage Forms Manufacturing & Primary Packaging
All conventional dosage forms, developed by Bertin Pharma, can be manufactured: tablets, capsules, powders, semi-solids, liquids.
Blisters, sachets (powder, semi-solid, liquid,), vials, ampoules, flasks, tubes (for topicals or dry forms), sterile products and injectables can also be m manufactured (vials with a stopper – aseptic filling, freeze-drying).
Secondary & Final Packaging
conception of packaging and labels layout, multilingual
writing of instructions for kits assembly and labeling, following the clinical trial protocol
printing of labels (CODESOFT 7 software)
writing of control specifications
patient kits assembly
qualified person release for use in a clinical trial
Distribution
Bertin Pharma has a large storage capacity for clinical batches to be distributed to investigational sites worldwide.
Ambient +20 +25°C and cold +2 +8°C conditions are monitored and recorded in the storage areas with an alarm system.
Shipments are made according to the temperature specifications either using a monitored temperature carrier or insulated shippers for cold products.
The management of returns is also ensured by Bertin Pharma, as well as storage of the clinical material until destruction is approved by the customer.
Placebo Formulation
Double-blind clinical trials may require a placebo form to compare with the active drug product.
Bertin Pharma, with its extensive know-how in formulation, can produce any conventional dosage form in regards with shape, color, taste, feel, viscosity if relevant.
ICH Stability studies are implemented in the primary packaging in order to verify that the placebo still compares to the genuine drug product over the time and define an expiry date.
Bertin Pharma manufactures the placebo for the clinical trial and generates the Qualified Person (QP) release.
Blinding into Capsules
Blinding into a capsule is a specificity of double-blind clinical studies when the active tablet or capsule cannot be copied under a placebo form. In that case, if the size allows it, the tablet is introduced in a capsule with filling agent (powder).
Given the modification of the environment of the tablets, stability studies are performed to verify that the over-encapsulation has no negative impact on the tablet.
One of the major tests is the Comparative In Vitro dissolution testing. For this purpose, Bertin Pharma provides methods development and validation.
We can produce large batches of blinded treatments in short timelines with a trained and qualified team of operators and semi-automated equipments.
Bertin Pharma is authorized by the French Health Authorities to import from Third countries and QP release drug products for use in Europe.
The following categories may be imported:
bulk, semi-finished products
finished products
pharmaceutical specialties for the European market
pharmaceutical specialties, other drug products for clinical batch supplies
Quality Standards
Bertin Pharma was granted a GMP manufacturing, import and distribution license covering all its pharmaceutical operations.
We complies with Europe and US FDA GMP standards for production, analytics, packaging and distribution of clinical batches. A special focus is put on software with the qualification of analytical and climatic conditions recording and monitoring.