Non Clinical Studies: a Crucial Step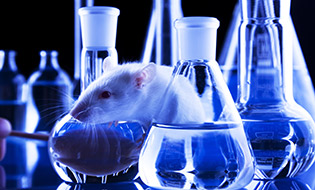 R&D in Pharmaceutical Companies is a critical issue in terms of investment and patent protection.
Every year, Pharmaceutical & Biotech companies screen 10,000 drugs.
Only 250 drugs reach pre-clinical phase.
The goals of non clinical studies are to assess the pharmacodynamics (PD), pharmacokinetics (PK), ADME and toxicity of drug/biotech candidates in animals.
A Crucial Step in terms of Risk Assessment prior first-in-man Clinical Trials
Indeed, due to rapid technology breakthroughs, preclinical studies can detect, in vitro and in vivo the compounds that have the less possible adverse effects to go to phase I studies. These data collected allows researchers to allometrically estimate a safe starting dose of drug for clinical trials.
Bertin Pharma offers services and expertise, in accordance with Good Laboratory Practice (GLP) and The International Conference on Harmonisation of Technical Requirements for Registration of Pharmaceuticals for Human Use (ICH) guidelines, including:
ADME
Early in vitro ADME
Early in vivo ADME
Animal PK & Metabolism
Human PK & Metabolism
Toxicology incl. Immunotoxicology