Drug Discovery & Translational Research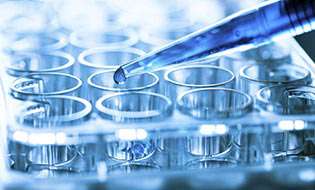 Highlight the Efficacy, Determine the Cytotoxicity!
By Drug Discovery & Translational Research, Bertin Pharma objective is to evidence the efficacy of new molecules, drugs (i.e. chemical substances) or biologics & vaccines, to determine their mode of action (Primary pharmacodynamic -PD), and concomitantly to predict their possible adverse effects (toxicity & off-target interactions).
Focus
How can we help you?
Efficacy/Cytotoxicity
Cell & Animal Models
A Large Scope of Expertise relative to Candidates & Therapeutical Areas
Efficacy/Cytotoxicity
For this, Bertin Pharma uses these different cell models in order to screen your drug products and to highlight in cellulo their efficacy and their absence of cytotoxicity.
One reference molecule is tested in parallel of your drug products and 50, 70 & 90% effective and cytotoxic doses as well as selectivity index are systematically calculated.
Then, effects of lead compounds in primary cultures of relevant cells, their mode of action, their interactions with drugs routinely used in clinic are evaluated.
Cell & Animal Models
These initial results then lead naturally to pharmacokinetics (PK), early ADME and a proof of concept in animal models (mouse, rat, rabbit &Not Humanized primate – NHP) mimicking at best pathologies in Humans.
Indeed, many of our cell &/or animal models are designed to be as close as possible to the pathophysiology of target diseases).
All these following phases can be supported by Bertin Pharma and this is the same for regulatory Tox studies.
A Large Scope of Expertise relative to Candidates & Therapeutical Areas
Please find below the exhaustive list of candidates tested along with the relative therapeutical areas:
NCE (New Chemical Entities)
peptides or proteins including vaccine candidates, allergens, cytokines, etc.
polysaccharides or lipids, lypopolysaccharides
probiotics and inactivated vectors
emulsions including dermatologic emulsions
nanomaterials including nanoparticles
infectious diseases
cancer/oncology*
neurodegenerative diseases e.g. MS
autoimmune diseases e.g. SLE, Lupus
metabolic & cardiovascular diseases e.g. diabetes, atherosclerosis
asthma & allergy
chronic inflammation
dermatology, cosmetology
nutrition
* In part, through a close partnership with Oncodesign