Biobanking: Keep the Integrity of your Biological Samples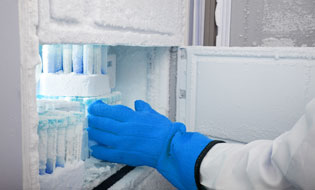 Whatever your sample or biospecimen (APIs, blood, urine, plasma, DNA, etc.), its storage is crucial to carry out bioanalyses or drug analyses in excellent experimental conditions for either pharmaceutics, cosmetics or nutraceutics applications.
Focus
Collection
Storage
Analysis
Shipment
Bertin Pharma proposes you to collect, prepare, store, analyse and ship your samples in compliance with the pharmaceutical industrial standard and confidentiality. Our concern is to keep the integrity of your biological samples.
Collection
In parallel of its Central Lab expertise, with this solution tested in several clinical studies, Bertin Pharma offers excellent conditions for short, medium and long-term storages of biological samples with an infectious risk or not.
Moreover, these biological samples are stored in standardized storage conditions with high levels of security and traceability.
As the origin (human, animal) and the type of these biological samples (cells & cell extracts, microbial agents e.g. viruses, biochemical e.g. protein extracts, molecular biology e.g. mRNA, DNA) are diverse and the optimal storage conditions are previously defined with you.
Storage
Biological samples are stored in biorespository premises of 380 square meter with 2 biosafety laboratories. We can store up to 3 millions samples (human, animal, vegetal, micro-organism, biochemical elements). We guarantee the biospecimen conservation of your samples at 6 different temperatures (-135°C, -80°C, -20°C, and in liquid nitrogen).
Analysis
Data generated from samples analyses are one of the keys to understand the mechanism of action of the drug. We have scientists ready to provide their knowledge in single or hypernated technologies to analyse and interprete the results.
see our Bioanalysis offer
Shipment
For the last 20 years, we have shipped bioreagents and samples all over the world. Our network knowledge allows us to select the best partners to answer your needs in terms of sample integrity. The shipping temperature are monitored whatever it is (room temperature, freezer, liquid nitrogen) in order to maintain the high quality of your biospecimen.