Immunoanalysis: From Development To Routine Use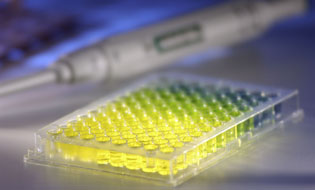 Thanks to more than two decades of track record in biomarker assay kit development & supply (>100 kits) and multi-disciplinary teams to select the most appropriate assay according to current guidelines.
Biomarker Quantification in body fluids & tissues
Bertin Pharma's expertise related to Biomarker quantification in body fluids & tissues to support drug development includes:
fit-to-purpose development assay (sampling, pre-treatment, assay design & format)
update & validation of biomarker assays
bio-analysis to support translational research, pre-clinical assessment & clinical trial (Central Lab)
capabilities to provide ready-to-use & customized Assay Kit for in-house or central labs implementation
integrated service for tools development to worldwide supply chain
two GLP-certified facilities
Several types & selection of Assay formats
definitive quantitative assay: well-defined standard fit to a regression model to calculate the absolute quantitative values (steroïds)
relative quantitative assay: response-concentration calibration function. Standard may not be fully characterized or fully representative of an endogenous biomarker (cytokines)
quasi-quantitative assay: does not use a calibration standard but has a continuous response (antibody titers of antidrug antibody)
qualitative assay lack proportionality to the amount of analyte in a sample. Such data may be nominal (as the presence or absence of a gene or gene product) or ordinal with discrete scoring scales (immunohistochemical assays).
Our ImmunoAnalytical Specificities