Central Lab For Microbiological monitoring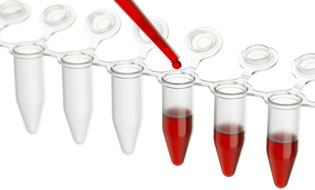 Bertin Pharma is able to manage samples collected in volunteers or patients enrolled in clinical studies and acts as a Central Lab and a Biobank.
These manipulations are possible for tissue samples with infectious risk since we have BSL2 & BSL3 facilities suitable for experimental infection with class 2 and class 3 human pathogens, including respiratory transmitted agents such as influenza virus.
Focus
Microbial Analysis & other elements of Bioanalysis
Viral Assays
These activities are in addition to those in Drug discovery/Transational Research & Antimicrobial Pharmacology activities and the specific Infectious Disease Models and Innovative Therapies (IDMIT) platform.
Microbial Analysis & other elements of Bioanalysis
Upon receipt of the tissue/blood samples, they are prepared as defined with you and we take care of Microbial Analysis and other elements of Bioanalysis such as Immunomonitoring and Drug Analysis.
We can help you to set up the pre-analytical phase (sample preparation, optimal conditions of transport, etc.) with your recruitment clinical centers.
Viral Assays
Viral assays as mentioned below are available:
quantitation of plasma and cell viral loads using qPCR and/or RT-qPCR
antibody-dependent viral neutralisation and/or enhancement of viral infectivity
expression level of cell antiviral factors such as 2',5'-OAS, PKR, MxA ,etc.
Samples, with an infectious risk or not, can then be stored in our Biobank (-20°C, -80°C, -135°C freezers and in liquid nitrogen). A long-term conservation is also possible through our partnership with Cell & Co.
These activities are related with those concerning the Biocidal Activitity, Biodecontamination, Biodefense , and Food Safety.